Dermatoscopy, a non-invasive technique that allows detailed examination of skin lesions, has revolutionized the way dermatologists diagnose and manage a wide range of skin conditions. At the heart of this innovative practice are dermatoscopes, essential tools that provide a magnified and illuminated view of skin lesions, allowing for a more accurate and detailed assessment. As technology has evolved, various models of dermatoscopes have emerged, each with its own distinctive features and benefits. In this article, we will explore the different dermatoscope models available on the market, discussing their peculiarities, their functions and how they influence the diagnosis and treatment of dermatological pathologies.
NB: The information has been obtained from the manufacturers' websites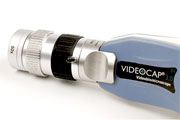 Videocap 3.0 is a line of epiluminescence, immersion and polarized light video-biomicroscopes, 'contact' and 'non-contact' which meet the multiple and different needs of differential diagnostics of both clinicians and researchers. The result of the research and design of DS Medica, a leading company in diagnostic imaging, the VideoCap® line of video-biomicroscopes represents the result of this technological integration which is continuously updated thanks to the continuous collaboration of all international users.
VideoCap Basic is the ideal video-biomicroscope for the Clinician who wants quality, versatility and portability in a single light, small-sized and extremely easy-to-use instrument. Compact and economical videodermoscope for clinical and dermoscopic investigations with polarized light, immersion and direct light. VideoCap Basic allows, through its video-optical technology, to investigate the entire skin surface with a fixed 30x magnification. The use of the macro lens (1x) allows you to view clinical images of skin lesions.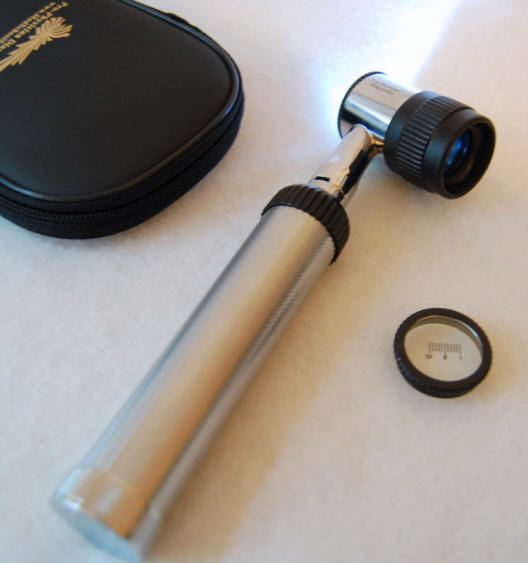 Heine delta 10 dermatoscope: instrument for contact dermatoscopy of pigmented lesions and for the early diagnosis of malignant skin melanomas. Dermatoscopy oil is applied to skin lesions making them transparent. DELTA20 makes structural changes visible and allows the examiner to recognize changes in the pigment network. Early detection and differential diagnosis of malignant melanoma and other conditions are more reliable and facilitated with DELTA20.
Digital photos with the dermatoscope. Connection with: Canon, Nikon, Pentax or Nikon Coolpix digital SLR cameras and Photo-Adapter. Detailed compendium with photographic atlas included. Facilitates differential diagnosis of pigmented lesions High resolution precision optics with achromatic lenses. 10x magnification, clear, distortion-free, wide and detailed image LED illumination similar to natural light. 6 LEDs or, alternatively, 3 LED side lighting for greater contrast; almost unlimited life Ocular. Focus with correction range from -6 to +6D
Heine Delta Alfa+ Dermatoscope: High quality instrument in a compact format. 10x magnification, focus adjustment and screw mount. Available with 3.5V Xenon halogen technology for super bright lighting.
Heine mini 3000: Modern pocket dermatoscope in compact design with quality optics. 10x magnification with focus adjustment. Metal screw connection. Only compatible with mini 3000 handles.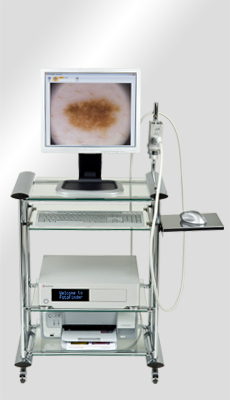 FotoFinder dermoscope is the system for digital epiluminescence microscopy, mole mapping and fluorescence diagnosis. FotoFinder stands for cancer diagnosis at the highest level and offers the entire diagnostic range. It helps to recognize skin cancer early whether it is melanoma, actinic keratosis or basal cell carcinoma, you will improve your diagnostic accuracy and avoid unnecessary surgery! FotoFinder dermoscope has a variety of functions for the video documentation of moles. Additionally, the system can be combined with FotoFinder bodystudio for Total Body Mapping which is recommended for patients with dysplastic nevi, and also with the FotoFinder mediscope components for standardized photography. Each model has a wide range of functions for video dermatoscopy and photographic documentation. You can also equip your system with various other expert systems such as the Moleanalyzer, Bodyscan pro, Trichoscan and UVscan, the auxiliary objective for fluorescence diagnosis as well as the HDFotokit for high-resolution digital photography. This way you get a complete platform for cancer diagnosis and photographic documentation.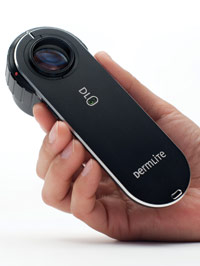 Precision engineered and crafted from solid aluminum, it's the first handheld DermLite to integrate a 25mm four-element lens, which delivers significantly reduced optical distortion and a sharper image across the entire field of view, cross-polarized and non-polarized illumination , low – battery indicator, charging cradle, and a fully enclosed, removable aluminum faceplate spacer. In each DL3, twenty-one high-power LEDs produce approximately 30% more illumination in cross-polarized mode than one DermLite II HR, and seven non-polarized LEDs for fluid immersion dermoscopy create a brighter image than equivalent mode in a hybrid DermLite II. For optimal ease of use, one button does it all: a quick tap instantly switches between polarization modes, and a longer press turns the unit on or off. By turning a large precision dial that is as easy to turn when mounted on a camera as it is during normal use, extend the faceplate spacer and focus the image with an available focal range greater than ±4mm or from -5.5 to +7.6 diopters (DermLite II: ±1mm). The innovative spacer comes with a 10mm scale glass faceplate and, thanks to its fully enclosed design, is easy to clean and keeps critical optical components completely sealed. Now, contaminants and unwanted ambient lighting no longer affect your image. Of course, the DL3 is compatible with the camera. Connect your digital camera via the product's built-in 28mm threaded connection, extend the spacer and start shooting sharp, reflection-free images quickly and easily. The same 28mm connection can be used to mount the included eyepiece, which can dramatically improve image contrast and help reduce internal reflections caused by ambient lighting DL3 is powered by the same built-in, rechargeable Li-ion battery used in the DermLite II series, which can be recharged via the included charging cradle. A DermLite DL3 will let you know when it's time to recharge: while using a fully charged DL3, the "3" on the top of the unit glows green; once the charge level drops below 25%, the "3" will glow orange. DermLite DL3 combines the unique benefits of immersion and polarized fluid dermoscopy in a truly refined device that offers superior illumination and optics, rugged durability and, with its ergonomic handle design and single button operation, a degree of convenience that is unmatched in a DermLite. Each unit comes with 3Gen's 5-year warranty, includes a leather belt pouch, lithium battery and charging cradle, eyepiece, and lanyard. With the DermLiteFOTO digital epiluminescence microscopy system, 3Gen offers another innovation that takes the guesswork out of epiluminescence microscopy. Now you can capture a high-quality, glare-free image with the most convenient and versatile portable dermoscopy system wherever you are. Documenting injuries is as simple as point and shoot. The extremely compact DermLite FOTO integrates 3Gen's state-of-the-art cross-polarization system, 24 bright white light-emitting diodes (LEDs) for natural lighting, and a high-quality four-element compound lens to create a system of epiluminescence microscopy imaging capable of capturing images of skin lesions with superb clarity and detail. Combine it with your commercially available digital camera, camcorder or SLR camera and you have everything you need to record high definition images, at an affordable cost. Above all, DermLite FOTO is completely portable. It comes with its long-lasting Li-ion PowerPack850 for hours of cordless digital dermoscopy wherever you want. It is the smart choice for remote clinics and teleconferencing applications, as a clinical tool for monitoring skin lesions at high risk for melanoma or simply for documenting a lesion prior to excision.
The DermLite System combines the DermLite model with one of the most compact and most capable digital cameras, the 10.0 Megapixel Canon PowerShot G11, offering a complete high-end digital dermoscopy system in a convenient aluminum case. The Canon PowerShot G11 comes with a 5X optical zoom lens. Combined with the macro imaging power of DermLite FOTO, this complete digital dermoscopy system allows you to produce images with a maximum magnification of up to 12X.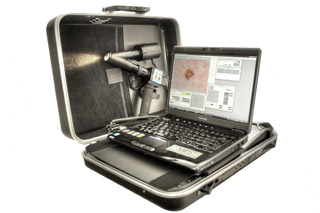 The DB-Mips 2008 System represents the technological evolution of the DB-Dermo Mips digital videodermatoscope reported in the most important scientific studies and used in the best centers for the early diagnosis of melanoma. The system allows not only the complete management of the patients' dermatological pathologies and accurate reporting via digital photography, but above all allows the early diagnosis of melanoma based on a considerably higher image quality than that offered by other video dermatoscopes. The heart of the system is made up of a Biomips HDTV dermatoscopic probe with a resolution between 1024×768 and 1280×1024 and a very powerful melanoma early recognition software validated as an important aid to the dermatologist through international publications. All the components of the DB-Mips video dermatoscope from the Eizo Monitor 19′ Sony digital sensor have been designed to offer reliability, excellent image quality and speed of management. The new integrated recognition software is in fact able to offer diagnostic support in real time: the dermatologist gets the diagnostic suggestion even while observing the lesions in vivo at a frame rate of 20 checks per second.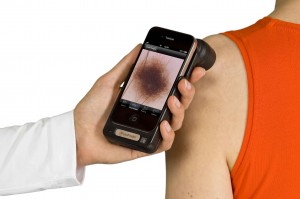 Handyscope: Turns your iPhone into a digital dermatoscope with which you can take excellent polarized photos of moles with up to 20x magnification and save them in the corresponding password-protected application. handyscope takes manual dermatoscopy to a new, unrivaled and unique level! It opens a new era of teledermatology because it combines the latest communication technology with FotoFinder's know-how in digital dermatoscopy. Take advantage of all the communication functions of the iPhone and send your photos securely around the world with just one touch. A new way to share information with colleagues and histologists! Handyscope is made to be used anywhere in the world, regardless of space or time. You no longer need a computer in every room to save photos of an interesting case because you always have it in your pocket. Use this flexibility and discover a new dimension of mobile dermoscopy! Have you always wanted the ability to freeze and save images with the conventional dermatoscope? With handyscope you can take spectacular dermatoscopic photos in megapixel quality, view them on the display of your iPhone and show them to the patient. Thus, skin exams become much more comfortable, with a welcome distance from both patient and doctor.
Hirox: 3D digital dermatoscope: The high resolution CCD sensor provides images with incomparable characteristics of contrast, brilliance, definition and colorimetric fidelity. The wide range of interchangeable and multidirectional zoom optics, and the methods of observation in bright field, dark field, polarization, fluorescence, etc., make the instrument suitable for any need for dermatological analysis and documentation, both in aesthetic medicine for examination of anomalies and imperfections of the skin and for detailed clinical studies, also of histological specimens, in epi-diascopy. The HIROX dermatoscope is an exceptional new technological opportunity in the field of medical and aesthetic dermatology thanks to a remarkable series of functions not available up to now in this sector with traditional microscopes and/or dermatoscopes.
Special features of the HIROX dermatoscope
outstanding optical and electronic resolution: 1600×1200 pixels (live images) and 6400×4800 pixels (storage)
epiluminescence lens with zoom magnifications from 20 x to 160 x
MACROZOOM interchangeable optics with magnifications from 1:1 to 50 x and from 20 to 800 x
MICROZOOM interchangeable lenses with magnifications from 35 to 7000 X
comparison of "n" images resident in memory with a live image
suitability for the observation of histological specimens in episcopy and diascopy
oblique observations from any angle using motorized rotating optics
adaptation of endoscopic probes for cavity inspection
multifocus functionality to increase depth of field (3D images comparable to electron microscopy acquisitions, but with the advantage of true color)
memory capability for up to 128 focal planes and 3D measurement of heights, contours and depths
wide spectral band for fluorescence, visible and near infrared observations
optional software packages for storing images on an interactive database (qwery db)
optional software packages for 2D and 3D measurements (area, perimeter, height, volume, topographic mapping